Back
Call for Proposals: Dunton Hills – Fanns, Woods and Waters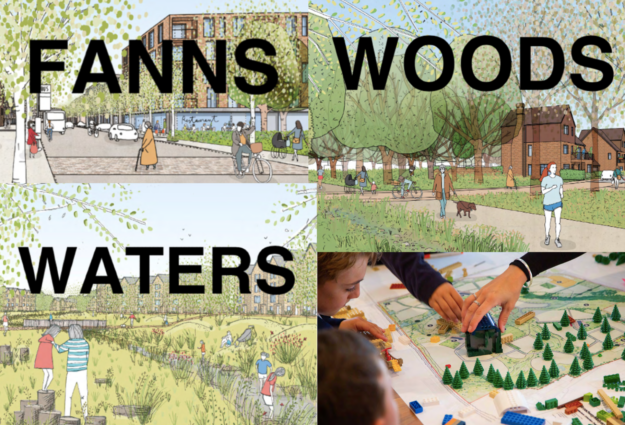 Call for Proposals
Dunton Hills Garden Village Commission
Fanns, Woods and Waters
Budget: £10,000 | Deadline: 17 October 2023 | Interviews: 1 November 2023
---
Read the full Commission Brief here (an overview is below):
Brentwood Dunton Hills 2023-24 Commission Brief (Downloadable PDF 235KB)
---
Essex Cultural Diversity Project and Brentwood Borough Council invite proposals from creative practitioners for a commission that celebrates the new Dunton Hills Garden Village. We are seeking a project with strong environmental themes, that celebrates biodiversity, and encourages positive attitudes and behaviours around Climate Action and the environment. It will be inspired by the three neighbourhoods of the new housing development: Dunton Fanns, Dunton Woods and Dunton Waters. Working alongside local primary school children, the project will capture the diversity of past, present and future communities, within and surrounding the new Garden Village.
---
Responding to this Commission Opportunity
Please read the Creative Brief for this commission. To apply, email [email protected] by midnight on Tuesday 17 October and include the following:
– An outline of the artistic concept for the commission, including your proposed approach to working with schools, potential creative outputs and legacy (no more than 1 side of A4).
– A brief description on why you are interested in this commission at this time, how your project promotes diversity and any relevant connections with Brentwood/Dunton Hills (no more than 1 side of A4).
– A biography and CV with relevant previous work (no more than 2 sides of A4). Please include links to relevant websites and social media/media.
– An outline budget breakdown showing how you would utilise the £10,000. It is important that all of the funded work takes place within the 2023-24 financial year, so please be clear on availability and resources to complete the commission in time
– An approximate timeline for the work.
– A completed Commissioning Monitoring Form: https://bit.ly/commission-monitoring-doc
As a diversity led organisation we are committed to making our application process more accessible, and can be adaptable, should the above procedures not quite work for you. We therefore welcome proposals in other formats, such as a video or audio version of your proposal, following the format above, or a 1-2-1 video or telephone call to talk through your proposal (we will use the prompts as listed above).
Please ensure that proposals are received by midnight on Tuesday 17 October. Send your proposal to [email protected]
Interviews will be on held on Wednesday 1 November in Brentwood.
---
Read the full Commission Brief here (an overview is below):
Brentwood Dunton Hills 2023-24 Commission Brief (Downloadable PDF 235KB)
---
Overview of Commission Brief
Dunton Hills Garden Village is a new settlement for Brentwood, designed to meet the needs of a growing population. The new Garden Village will be a self-sustaining community providing up to 4,000 homes, new schools, job opportunities, health and community facilities, and shared public spaces. It will be located on a site that sits within the Brentwood Borough and borders the districts of Basildon and Thurrock. As part of the community place-making process that supports the new development, Essex Cultural Diversity Project and Brentwood Borough Council are inviting proposals from creative practitioners for a new commission.
We are seeking project proposals that directly engage children from four primary schools in the area, selected in advance by partners and supporters. Proposals should have a strong focus on nature, biodiversity and the environment. As a starting point, the project should draw from the vision, character and environmental considerations of each of the three distinct neighbourhoods proposed for the new Garden Village: Dunton Fanns, Dunton Woods and Dunton Waters. More details about each neighbourhood are below.
Projects should also consider the five key themes underpinning the development: A Strong Sense of Place, Land Use and Design, A Forward Thinking Village, Sustainable Movement, and Landscape.
Overall, the project must reflect and promote diversity and inclusion, and capture the voice of the community. We are interested in seeing a project that harnesses creative ways to explore the concept of culture and community in relation to the Garden Village as it develops.
---
Dunton Hills Supplementary Planning Document (SPD)
https://www.brentwood.gov.uk/dunton-hills-garden-village-spd
https://www.brentwood.gov.uk/sites/default/files/2023-02/BBC-DGV-SPD-230131.pdf
This creative brief reads in tandem with the Supplementary Planning Document (SPD) for Dunton Hills, which has been formally adopted following a public consultation process. It details the outcomes of a community co-design process and will guide how the development will come forward in the future, so proposals should be synonymous with this guide.
---
About the Three Neighbourhoods
Dunton Hills Garden Village will comprise three key neighbourhoods, knitted together by a rich variety of green spaces weaving through woodland, play areas, water features and nature areas, with exceptional views across the wider area from a ridgeline park. Historic farm buildings will be retained and incorporated within the central village green, a focal space for community events. Here are more details about the three neighbourhoods that make up Dunton Hills:
Dunton Fanns (Section 4 of the Dunton Hills SPD, page 85)
Dunton Fanns will be the most vibrant and most urban area of the Garden Village, and will play a vital role as it will contain the Village Centre and the Market Square, which will be important hubs of social, commercial and cultural life for the new community. The name of this area is derived from its natural landscape which is mostly fenland. Historically, this area consisted of fens, forests and farming land. The vision for Dunton Fanns is for a neighbourhood which retains the qualities of openness and long views which were observed in the original landscape. This area will be the village's main access (from the A128) and will act as a gateway to the village. Dunton Fanns also includes the innovation park, which will be the largest employment area within the Garden Village.
Dunton Waters (Section 5 of the Dunton Hills SPD, page 115)
With a village atmosphere of quietness and serenity, Dunton Waters will be the most tranquil neighbourhood of the Garden Village. Its character is defined by the historic ponds and wetlands, which will be largely retained in the new neighbourhood. The vision for Dunton Waters is for a neighbourhood which maintains a close relationship with its water bodies and allows residents easy access to those assets. It will become an area with bright buildings aligned along green streets, leading onto ponds and lakes, with views towards the blue infrastructure. Its architectural compositions and materiality will be reminiscent of water, with material palletes referencing reflections and brightness.
Dunton Woods (Section 6 of the Dunton Hills SPD, page 139)
Dunton Woods is rich in woodlands, trees and ancient natural environments. The vision is for a neighbourhood drawn upon these natural features and characterised by informal and organic urban forms, with an architectural language inspired by the woods. The neighbourhood will be characterised by its green and sheltered setting amongst the ancient woodlands and mature landscaping, with connections to the natural features surrounding the neighbourhood such as the ancient woodlands, the ridge and the ponds. Architectural compositions and materiality will be reminiscent of woodlands, with material palletes referencing wood, mix brick with timber and weatherboarding in darker colours. The neighbourhood will have excellent views due to its elevated topography.
---
Project Approach, Delivery and Final Artwork
Proposed projects need to consider the timescales of the development: the creative practitioner(s) should consider that the site will be in a state of ongoing building work and development for a number of years, so any legacy and/or final outcome needs to be flexible.
The creative approach, participatory process and final artwork(s) would be shaped by the appointed creative practitioner(s), their proposed project and practice, as well as the participants they work alongside. We are happy to be led by the appointed creative practitioner(s) and would expect to see ideas of the final piece in the proposal.
Suggested processes and outcomes include inspiring and engaging schoolchildren with ideas for creative designs, assets or templates that developers could adopt and embed into the development. As an example, this could include pavement tile design, decorative brickwork, street furniture, place names and signage, or artistic features for walks and trails.
Proposals should include creative delivery within the schools, a final artwork which can be presented to each school, and some kind of final sharing event to bring together and celebrate participants' achievements.
Costs for production of the work when embedded into the development need to be considered, but do not need to be part of the commission budget.
---
If you would like to talk this brief through or need further information about the commission, we'd be very happy to offer support and answer your questions. Please email Jo Nancarrow on [email protected] to arrange a meeting.
---
Read the full Commission Brief here:
Brentwood Dunton Hills 2023-24 Commission Brief (Downloadable PDF 235KB)
---