Back
Call for Proposals: Artist Commission in Grays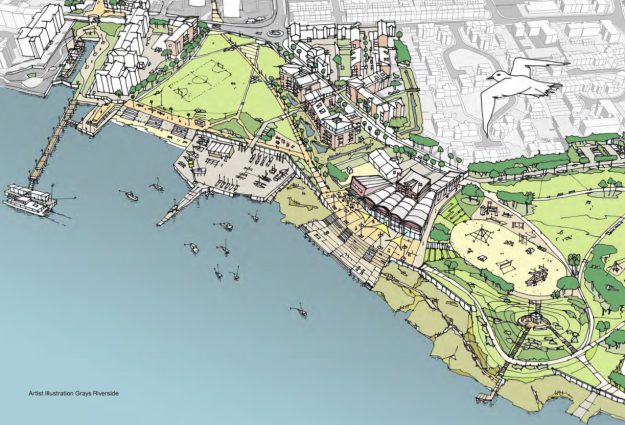 Essex Cultural Diversity Project is currently calling for proposals for our next place-based artist commission, which will focus on Grays in Thurrock.
Budget: £10,000
Deadline: 21 November 2018
Interviews will be on 29 November 2018
Information in full: ECDP Grays Commission Brief 2018-9 (PDF doc 142kb)
Image: a vision of the future of Grays riverfront, as part of Thurrock Council's regeneration proposals/plans (2016)
ABOUT THE COMMISSION
Introduction
For ten years Essex Cultural Diversity Project (ECDP) has been working closely with many different organisations, bringing together artists, museums, libraries, performers and writers with local authorities and commissioners to significantly improve and enhance the artistic and cultural diversity of the area, ensure that excellence is thriving, and that cultural integration and understanding is supported and enhanced through arts and cultural activity. This is more important today than it has ever been since ECDP was established.
ECDP is now an Arts Council National Portfolio Organisation (NPO) with a key role to play across Essex and the East of England in continuing to support diversity in arts and cultural practice. Our key strategy to achieve this is through a programme of exciting but challenging place-based commissions for artists to work in areas of Essex where there are opportunities to explore diversity through their practice. For 2018-19 we are focusing on five towns/places where community engagement in the arts has been traditionally low – Canvey Island, Basildon, Grays and Jaywick Sands. Grays is the focus of this commission.
As with the other towns, Grays has relatively high levels of deprivation and historically low levels of artistic and cultural funding and programming. Thurrock Council have secured significant investment through the Local Enterprise Partnership to regenerate Grays Town Centre and improve transport connectivity. The area is increasingly culturally diverse but lacks local capacity for diverse programming in the arts/cultural sector.
Grays Introduction
Grays is the largest town in the Borough of Thurrock and home to a significant and growing diverse population. Traditionally home to a significant white working-class population, Grays is now home to many communities including significant African and Asian populations. A trend has been substantial movement of people from London to Thurrock, particularly from geographically close boroughs, including Havering, Barking and Dagenham and Newham. The nearby Tilbury Docks is closely associated with the 'Empire Windrush' which in 1948 brought the first post-war Caribbean migrants from Kingston, Jamaica. Thurrock has always been an important place for migration and opportunity – the Council's formally adopted motto is "By Thames To All People of the World" reflecting in particular the importance of the docks, but also a longer history as home to populations migrating from Europe over 1000s of years including Bronze Age Beaker people, Saxons, Romans, and Normans, all attracted to the strategic location on the Thames with access to the North Sea. The name 'Grays' is derived from a prominent Knight – Henry De Grey who acquired the Manor at 'Thurrock' in the 12thCentury.
Grays is also a town that will see significant change and regeneration over the next few years due to growth plans being developed by Thurrock Council. Significant funding has already been secured by the Council to develop a new underpass linking the station to the town centre and associated public realm. It is estimated that over the next 10 years £6.6bn will be invested to create 14,000 new homes and over 30,000 new jobs across key locations in Thurrock, with Grays being a major regeneration priority.
The local economy and retail sector is dominated by the major 'out of town' shopping centre Lakeside which was first opened in 1990 and is now home to over 250 retailers. Major locations within the Grays area include the Council-owned Thameside Theatre complex home to performance, exhibition and community space, the Thurrock campus of South Essex College, Grays Beach and the disused historic State Cinema which is to be converted in to a Wetherspoons Pub.
Thurrock has a relatively low engagement with arts and artistic activity and is recognised as a priority area by the Arts Council. Thurrock Council and Royal Opera House Bridge are working with a range of partners on a 'Cultural Entitlement' programme for all young people in the area, supporting them to engage with cultural and artistic activity. The Royal Opera House Bridge organisation are based at the High House Production Park in Purfleet, a major centre of arts and cultural activity which is also home to ACME artists studios, Thurrock Music Services and South Essex College's 'The Bob and Tamar Manoukian Costume Centre'.
In 2016-17 ECDP led an HLF funded project entitled 'By Thames to All People of the World', aiming to add to and enhance the current stories, materials and artefacts within Thurrock Museum (at the Thameside in Grays) to tell the story of the many diverse communities that worked, settled and then dispersed from the area. The project focused on four diverse communities: African Caribbean, Sikh, Czechoslovakian, African and Nepalese. Each community tells a unique story of their arrival, how communities developed and the memory and impact the communities had on Thurrock. https://essexcdp.com/project/by-thames/
The Commission
ECDP's has a key role to explore the concept of 'diversity' across Essex, working with a wide range of partners and providing opportunities for artists and creative practitioners from diverse backgrounds and contexts, as well as for artists and arts/cultural organisations to explore diversity through their work. Through our commissioning programme ECDP aims to support the production of challenging work that responds to specific places and the local context (place-based), as well as reflecting on national themes and issues around diversity.
Grays is an area that has seen significant population growth and increasing diversification while the town centre has suffered from economic decline (not unlike many local centres) and is now primed for major regeneration and economic growth with significant plans set out by Thurrock Council and its partners. As a 'place-based' artistic commission ECDP are interested in exploring the 'identity' or 'identities' of Grays, considering how increasing cultural and social diversity is perceived by the local communities. Thurrock Council is keen to see local populations engage with plans for regeneration, and with regeneration comes opportunities for investment to support increased economic prosperity. Through future investment, what might be the opportunities for local cultural development including buildings, events and programming? Who are the audiences and future participants in cultural activity in Grays, and is it inevitable that different communities will engage with different cultural opportunities, or are there opportunities for communities to come together through art and culture? These are questions that are relevant to ECDPs work – 'Bridging the gap between culture and awareness' – and they are also relevant to many towns across the UK. For example, is the current cultural 'offer' in Grays relevant to local African or Eastern European communities (for example)? Or are they more likely to provide their own cultural programming and events (through the Church for example).
For this commission we would like the artist or arts organisation to consider some of these questions in relation to Grays, and to engage with some local community groups where possible to look at how cultural diversity is perceived, understood or engaged with. Grays is a town with significant growth and regeneration opportunities and many challenges, but also a town in which there will be many voices and narratives about what informs or defines the culture of a place, and how these narratives should feed in to supporting community cohesion, celebrating diversity, and informing regeneration and growth.
There is no imperative to propose solutions for informing the regeneration strategy for Grays as a place (socially, culturally or economically). However, the commissioned artist should seek to understand and engage with current and future regeneration and development plans where possible.
How this commission is undertaken, which art form and which community groups are engaged – ECDP and its partners are open and would like to keep the opportunity as free as possible to encourage creative exploration. The process of engagement with communities and addressing the issues of diversity in the context of Grays – these are key to this commission opportunity. ECDP will seek to gain insight from this commission for future work and engagement of communities in arts and cultural programming and events across Thurrock.
Budget and Promotion
The budget available for the commission is £10,000 (to include any VAT). This will cover artist fee, travel and materials. The need for promotion, advertising and web resources can be discussed with ECDP, therefore we do not expect the £10,000 to cover anything related this.
Responding to this ECDP Commission Opportunity
Please respond via email to [email protected] including the following:
Outline artistic and community engagement concept for the commission, including the proposed community engagement process and what art form(s) will be the focus
CV with relevant previous commissions and work (no more than 4 sides of A4). Please provide links to relevant websites and social media/media
Outline budget breakdown showing how you would utilise the £10,000 and approximate timeline for the work. It is important that all of the funded work takes place within the 2018-19 financial year, so please be clear on availability and resources to complete the commission in time
Please ensure that proposals are received by 23.59 on 21 November 2018 – please send them by email to [email protected]
Interviews will be on 29 November 2018 – Interviews will include an opportunity for a 15-minute presentation on your Proposal. If you are shortlisted for an interview we will let you know by the 23 November 2018.
Please note, if your application is not shortlisted in this instance we will not be able to provide feedback.